July 25, 2022
Space passions. How did a woman quarrel between Elon Musk and Sergey Brin?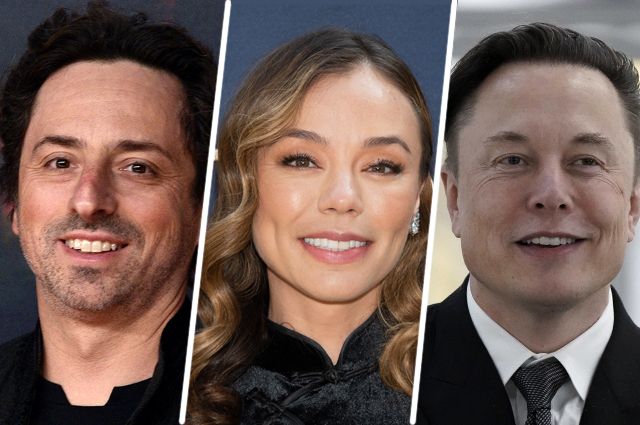 "Two billionaire geniuses didn't share a woman" — with such headlines today come out the American media. According to the Wall Street Journal, Google founder Sergey Brin (10th richest person in the world according to Forbes) is divorcing his wife Nicole Shanahan because of an affair between her and the head of Tesla Elon Musk (1st place in the list of the richest people in the world). This is not the first scandal for Musk when he is suspected of having an affair with a married woman.
"Nothing romantic"
"That's bullshit. Sergey and I are friends and were at a party together last night. I saw Nicole only twice in three years, and on those two occasions there were a lot of people around. Nothing romantic, — Musk tweeted.
A little earlier, the Wall Street Journal (by the way, not a tabloid yellow press at all, but a serious economic publication, one of the most influential in the US and the world) released an article stating that Brin and Musk's long-term friendship ended due to the latter's alleged romance with Google founder's wife.
According to the WSJ, citing its sources, the affair happened in the fall of 2021. It did not last long, but Brin's marriage was destroyed. Prior to this, Brin and Musk had close friendships. They spent a lot of time together and often helped each other out. Thus, the WSJ writes that during the 2008 crisis, Google, on the orders of Brin, provided Tesla with $ 500 million, which Musk used to expand the company's production. Both billionaires often appeared at various secular parties together, went on vacation together and exchanged chic gifts. For example, in 2015, Musk gave Brin a Tesla SUV.
According to the source of the American edition, already after the scandal, Musk tried to apologize to Brin. At one of the parties, he literally got down on one knee in front of the founder of Google and asked for forgiveness. Brin accepted the apology, but since then he has had little to no contact with his old friend. In addition, he instructed his financial advisers to withdraw all his money from Tesla.
The fact that Sergey Brin was filing for divorce from his wife became known in early 2022. The billionaire began dating Nicole Shanahan back in 2017. In 2019, they got married, and a year later they had a daughter. In addition, Brin also has a son and a daughter from his first marriage to American businesswoman Anne Wojcicki, whom he divorced in 2015 after eight years of marriage.
Brin cited "irreconcilable differences" in his divorce petition. with his wife. At the same time, the couple tried to keep the details of the divorce a secret.
Billionaire Lovelace
For Elon Musk, this is by no means the first high-profile romantic scandal that the press has become aware of. The richest man in the world has already been married three times and twisted many novels. From different women he had a total of 10 children, including two sets of twins and one triplet.
With his first wife Justin WilsonMusk met at university. The marriage lasted eight years until 2008, when the billionaire left his first wife for a new lover, actress Talulah Riley. He married her in 2010, divorced in 2012, and remarried in 2013. They finally broke up in 2016.
About the same time, Musk had a high-profile romance with actress Amber Heard. The details of this story became known during a high-profile trial between Hurd and her ex-husband Johnny Depp. Depp stated that Heard began cheating on him with Musk a month after the wedding. Witnesses at the trial said that the billionaire had a key to the actress's personal apartments, that he repeatedly visited her during her husband's business trips. And when Hurd and Depp began the divorce proceedings, Musk offered the actress round-the-clock security. "The offer will stand even if you never want to see me again. Anyway, I'm sorry for acting like an idiot. Silence hurts a lot. It's only important because I really like you, — he wrote to Heard.
In 2018, Musk married for the third time, to Canadian singer Grimes. In marriage, they had two children. The couple broke up in 2021 — as reported, due to the numerous betrayals of the billionaire. So, it turned out that he had an affair with a top manager of one of his companies Siobhan Zilis, which bore him twins. Musk gave them his last name and even bought $4 million worth of real estate in Texas, where the young mother and twins live. Now romances with subordinates are considered reprehensible in America, but the favorite of the nation, Mask, seems to have managed to avoid accusations of harassment. By the way, his last lover, the actress Natasha Bassett.
So the story of the affair with the wife of a close friend hardly surprised anyone.
Rate the material